Contents
Australian Pharmacy Council Accreditation Standards for Pharmacy Programs in Australia and New Zealand
Date: 12th of November 2019, Author: Ivan Bindoff
The Australian Pharmacy Council have recently released their new accreditation standards for pharmacy programs, which define the requirements of pharmacy programs in Australia and New Zealand. These new standards will come into effect on the 1st of January 2020.
You may review the standards document here.
The key changes are as follows:
one set of standards for both higher education and intern training providers
social accountability is given additional emphasis - this includes cultural competency and interpersonal skills
cultural safety is also given specific emphasis, particularly with regards to Aboriginal and Torres Strait Islander, and Maori groups
interprofessional education is highlighted
experiential learning is highlighted
emerging practices are highlighted
These new standards help to bring Australia and New Zealand in line with many of the advances and developments that have been taking place in the pharmacy profession internationally in recent years.
Pharmacy Simulator and the new standards
Pharmacy Simulator is the perfect tool to help your pharmacist training organisation comply with the new standards, and has applicability across a wide range of the domains and their associated criterion. We've attempted to outline some of the many ways in which Pharmacy Simulator may apply to the new standards below.
Domain 1: Safe and socially accountable practice
Criterion 1.1 The program promotes the development by students/interns of knowledge, skills, behaviours and attitudes congruent with a commitment to public service and safety; cultural safety, respect and responsiveness; equity, diversity and inclusiveness; person-centred care; reduction of disparities in health care; and addressing community aspirations for health.
One of Pharmacy Simulator's strengths is in its ability to model strong interpersonal and communication skills, emphasising the importance of empathy, openness, and awareness. Our users have already developed scenarios that highlight many of these skills, but there is endless potential to expand and refine this.
We've already added two avatars of Aboriginal appearance, and encourage our users to develop additional scenarios that help students and interns to i.e.
identify and understand biases and inequality
understand health disparities
understand cultural differences
understand the concept of cultural safety and its importance in helping to achieve optimal health outcomes for indigenous groups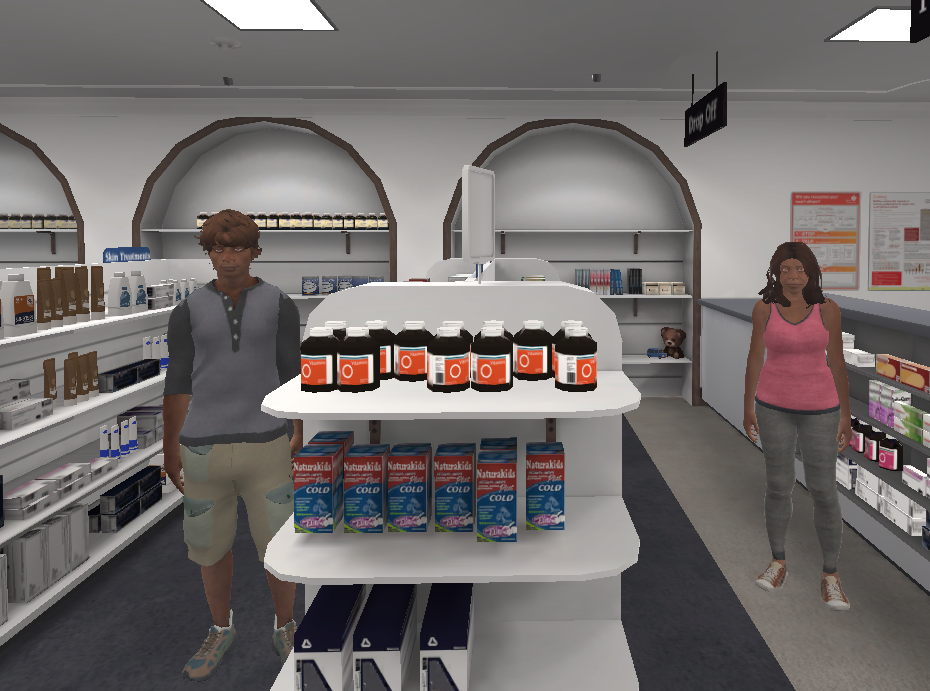 Figure: Aboriginal avatars currently available in game.
Criterion 1.2 Effective fitness-to-practise monitoring and management processes are implemented in relation to students/interns which promote and protect the safety of the public at all times. and the related Criterion 1.3 All students have demonstrated relevant pre-requisite knowledge, skills and behaviours and attitudes before interacting with the public or providing professional services as a component of the program.
Pharmacy Simulator is a perfect way to allow students and interns to practice their craft in a virtual environment, where harm to the public is not possible.
It sets itself apart from traditional standardised patient experiences because it is:
more repeatable - the student can perform more activities with greater repetitions than they would otherwise be able to achieve in traditional classroom settings
more accessible - the student can perform the activities in their own time and their own place
more trackable - the student can demonstrate that they have performed the activities and achieved certain benchmarks
more cost effective/scalable - the instructor can deliver the same exercise to hundreds or even tens of thousands of students without needing to hire additional assessors or run additional tutorials
Criterion 1.5 Graduates of the program have demonstrated appropriate understanding of their legal, ethical and professional responsibilities, awareness of relevant processes for managing concerns in relation to their practice and/or the practice of others, and recognition of mechanisms for familiarising themselves with changes in requirements.
Pharmacy Simulator has incredible scope to simulate a wide spectrum of legal, ethical, and professional responsibilities, and put students and interns into the habit of acting appropriately to avoid issues, and also responding appropriately when issues do arise.
It is one thing to learn about your professional responsibilities and obligations under the various regulatory frameworks and laws, but it is another thing entirely to put those responsibilities and obligations into practice.
These issues are often inherently things that do not come up very often in practice, so it is ideal to create simulated scenarios that allow students to experience and recognise them first hand.
Criterion 1.6 The program includes sufficient length and variety of high-quality WIL and practical experience, in a range of practice settings and with exposure to a diverse range of patients, to ensure students/interns are able to demonstrate achievement of the required performance outcomes to the appropriate level.
It is often difficult to ensure that your students are exposed to a diverse range of patients and practices. This is one of the strengths of using simulated patients in your curriculum: you are able to control the experience, ensuring that your students are exposed to and know how to handle not just the common situations, but also the uncommon and more challenging encounters which they may only have to deal with a handful of times in their career, or may never encounter in their current workplace.
The accreditation standards also draws specific attention to the need for students to engage in activities across a broad spectrum of the profession - it cites community and hospital experience as being compulsory, and encourages additional experiences in i.e. Aboriginal and Maori services, rural and remote settings, residential care settings, general practice, etc.
We have been preparing for this, and have hospital and general practice settings coming online in early 2020.
The standards also make a specific recommendation that intern training providers consider simulation activities as a method to ensure their interns are given experiences which might otherwise not be available in their workplace.
Domain 3: Program
Criterion 3.2 Program design, content, delivery and assessment reflect contemporary evidence based practice in pharmacy, health and education, and are designed to facilitate the achievement and demonstration by students/ interns of the required performance outcomes at an appropriate pace over a sufficient period of time. Emerging developments and scopes of practice relevant to entry-level practice, and new technologies are incorporated into the program (including WIL) in a timely manner to ensure that the program remains fit-for-purpose.
There is an abundance of evidence to support the use of simulation to delivering training, and undertake assessments. [1] And there's also evidence to support the use of Pharmacy Simulator specifically, which we've written about previously. Within the various healthcare professions, simulation is now a common modality for delivering high impact and engaging learning experiences, and there can be no doubt that Pharmacy Simulator is an emerging development/new technology.
By integrating Pharmacy Simulator based scenarios into your program, you'll be helping to ensure that your program remains fit-for-purpose and doesn't fall behind.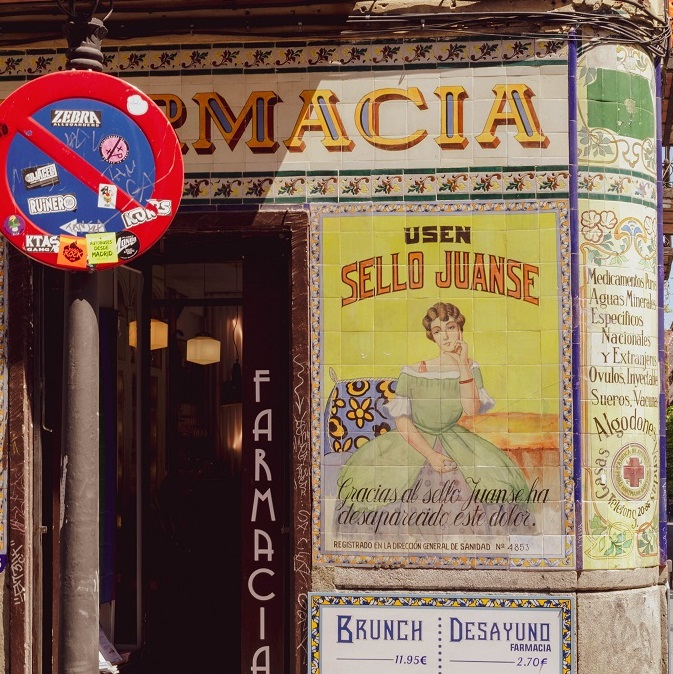 Figure: Is your pharmacy program getting outdated? Photo by Jose Antonio Gallego Vázquez on Unsplash
Criterion 3.4 Program design, content, delivery and assessment specifically emphasise and promote Aboriginal and Torres Strait Islander cultures, cultural safety and improved health outcomes in the Australian setting, and Māori cultures, cultural safety and improved health outcomes in the New Zealand setting. Aboriginal and Torres Strait Islander people (Australia) and Māori people (New Zealand) should have direct input into curriculum design and content, and where possible should be involved directly in delivery and assessment.
As we have already discussed, Pharmacy Simulator includes Aboriginal patient avatars, and enables educators to develop high quality scenarios that highlight complex cultural issues.
It should also be noted that Pharmacy Simulator allows various parties to collaboratively author scenarios. Simply add collaborators to your scenario and they will be able to review/edit and update the scenario at will, using our in-game scenario editor.
This is one of the key strengths of Pharmacy Simulator - you and your content experts are not beholden to a third party software developer to make the changes you need. You're entirely in control of the process of creating scenarios, updating them, and sharing them with your students.
That being said, if you need help turning your big scenario idea into reality, please don't hesitate to contact us for support and we'll be sure to help you out.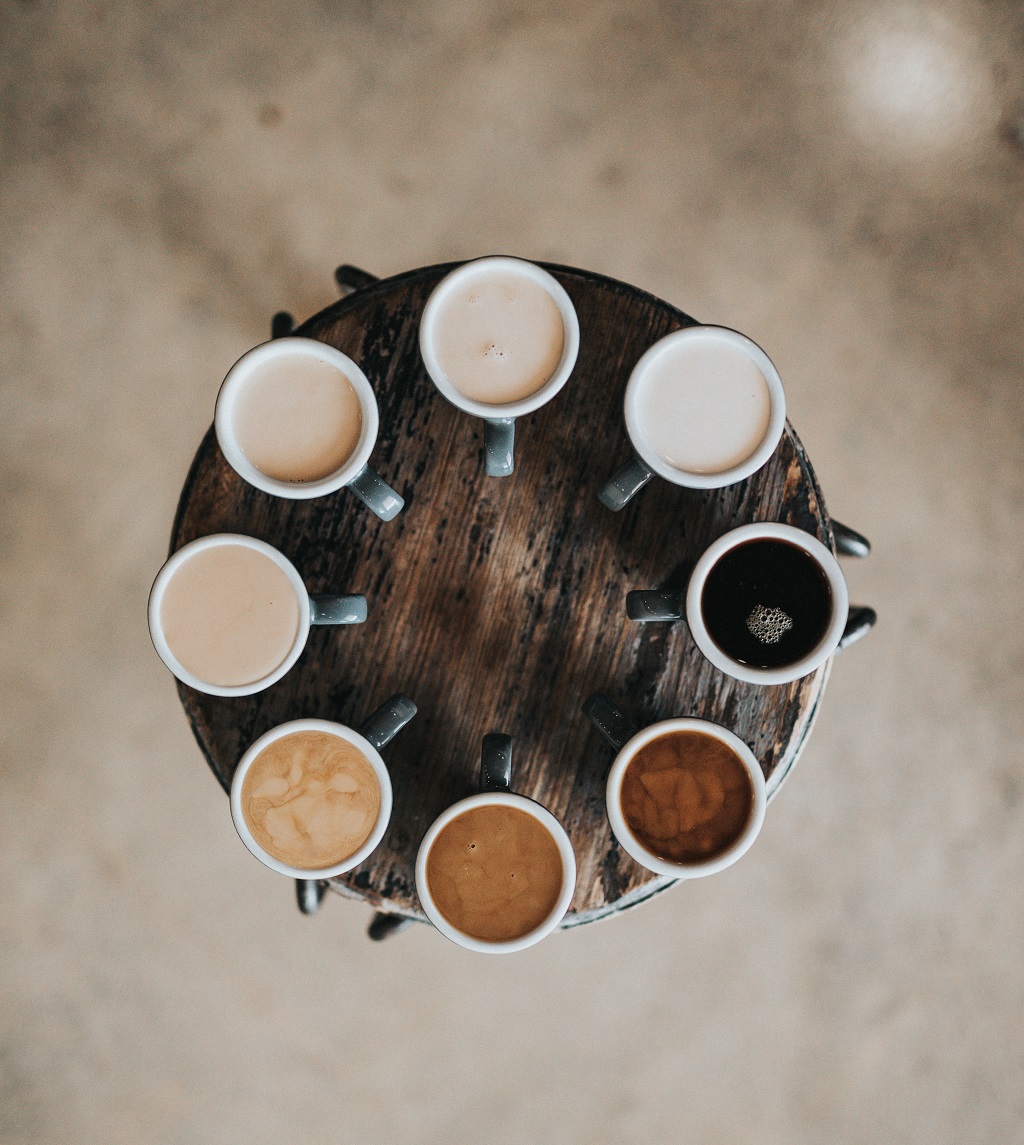 Photo by Nathan Dumlao on Unsplash
Criterion 3.5 Program design, content, delivery and assessment promote an understanding and appreciation of cultural diversity by both staff and students/interns, and the development of skills that enable the provision of culturally safe, inclusive and responsive person-centred care.
It is possible to simulate a wide range of culturally diverse patient encounters with Pharmacy Simulator. We already have a wide selection of patient avatars available, across the gender and ethnic spectrum, and if our existing suite of avatars doesn't have what you need, it's relatively straightforward for us to add new avatars into the future.
Our current design is a little limited because every additional avatar we include adds a significant amount of data to our download/install size, and we're trying to keep this down for performance and accessibility reasons. However, we have plans in the near future to download avatars (and scenes) on demand. This will reduce the initial installation size, and allow users to selectively load avatars and environments on demand. It will also make it much easier for us to add additional scenes and avatars to Pharmacy Simulator over time, expanding the range of experiences you can successfully simulate.
Criterion 3.8 The program provides sufficient opportunities for all students/interns to engage in interprofessional learning and practice (in real and/or simulated environments) to enable graduates to provide person-centred care as a collaborative member of an interprofessional team.
Pharmacy Simulator is an excellent tool for simulating interprofessional experiences. In the same way that you can create patient actors that can be comprehensively interacted with, it is possible to also add actors which simulate other healthcare professionals - whether it be on the phone or in person.
With our hospital and general practice environments becoming available in 2020, we foresee this as being an increasingly common type of scenario to model in Pharmacy Simulator.
In the future we would also like to support multiplayer experiences, where multiple students can take on various professional roles and collaborate in real time or asynchronously.
However, the current approach of simulating healthcare professionals is both more accessible and easier to manage in terms of logistics/scheduling.
Again, it should also be noted that the standards again specifically suggest the use of simulation as an approach for delivering these kinds of experiences. This suggests that the APC acknowledge and understand the challenges which arise when attempting to incorporate real-world interprofessional experiences within a curriculum.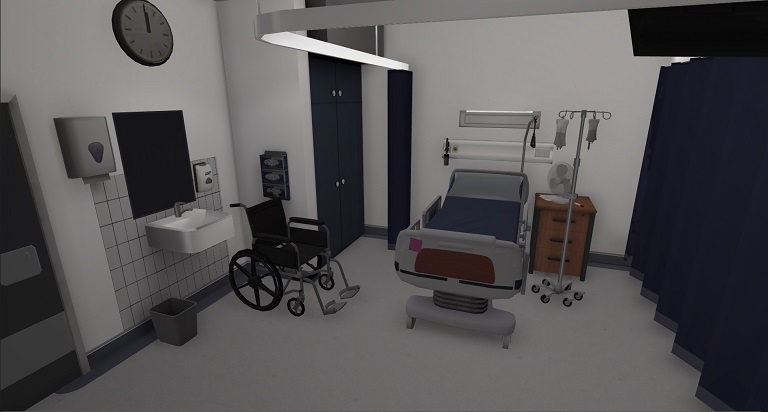 Figure: Hospital environment coming soon.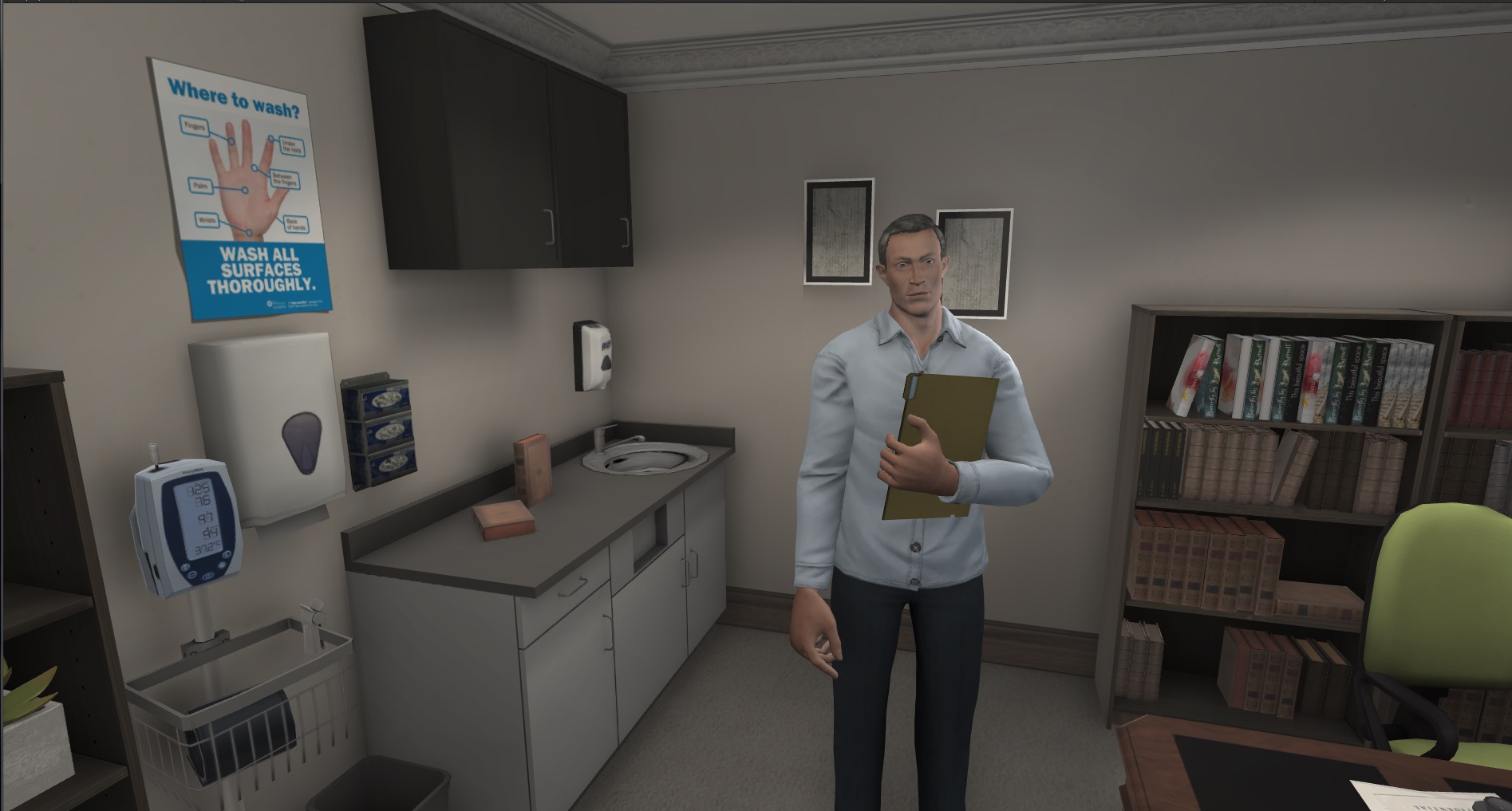 Figure: General practice environment coming soon.
Summary
We're pretty impressed with the new accreditation standards that the Australian Pharmacy Council have published, and congratulate the council and the various contributors.
The standards focus on ensuring that students and interns get the best possible education, and that the education they receive is aligned with the best possible health outcomes for the public.
The council appear to have recognised that experiential learning, and simulation in particular, are excellent tools for learning and teaching, and it seems like they have identified that the broader profession has to date been a little slow in adopting these contemporary techniques into their teaching practice, when compared to our peers in other healthcare disciplines.
We believe that Pharmacy Simulator will help learning and teaching organisations meet their obligations under these new accreditation standards, and we'd love to talk more with you and discuss the ways you might utilise Pharmacy Simulator in your future curriculum.
References
Scholarship applications opened
Date: 11th June 2019, Author: Ivan Bindoff
Pharmacy Simulator has now launched into early access, but we acknowledge that not every organisation will be able to commit to a purchase right now. At the same time, we also acknowledge that we have limited launch content in some regions.
To address these issues, we're making a number of scholarships available to qualifying pharmacy schools who can demonstrate need, and who can commit to writing at least 10 scenarios for their students over the next 12 months.
To apply, click on the link below and fill out the application form. Your application will be assessed on need and merit as soon as possible. If we determine your organisation is a good fit, we'll provide a 12 month subscription to Pharmacy Simulator for all your students and faculty, free of charge.
Apply now. Applications close at the end of August.
Don't forget, you can always purchase your Pharmacy Simulator subscription outright, and we are currently running an early access launch discount of 30% off - use code "EARLYADOPTER" at checkout!
Featured Article - Pharmacy Simulator: New Serious Game with Infinite Scenario Opportunities
Date: 29th May 2019, Author: Ivan Bindoff
Healthysimulation.com has kindly published an article about our recent launch of Pharmacy Simulator. Check out the healthysimulation.com website to read all the latest news from the simulation-based education community, and while you're there, read what Lance had to say about Pharmacy Simulator.
Our design philosophy, and planning for the future
Date: 28th Nov 2018, Author: Ivan Bindoff
At Imitated Environments we design our products not just to solve the problem at hand, but to also solve problems we predict may arise in the future. This approach has some additional upfront cost, but pays dividends down the track.
The best example of this is the Simulation Platform our products are built upon. This is a generic set of tools and features that enable the creation of simulated learning experiences. They are, by design, entirely agnostic to the content that you may choose to develop using them. Everything is also developed in such a way that it can be readily extended or adjusted to meet a specific need.
Pharmacy Simulator is built upon the Simulation Platform. It then extends the platform with a suite of Pharmacy specific tools. Examples of this would be the features of the dispensing computer, and the prescriptions system. The core features: dialog, scoring, feedback, scenario editing/sharing are all part of the underlying Simulation Platform, requiring only minor modifications/extensions to suit the Pharmacy use-case.
This design philosophy positions us well to expand our business into new product lines down the track, once we're confident that our launch products are in a good place. We can pursue opportunities to develop simulation-based training packages for a whole range of potential professional disciplines (i.e. other healthcare professions such as medicine, nursing, or even entirely different professions such as retail, teaching, or management). Leveraging the Simulation Platform, we will be able to develop and deliver these new products far more rapidly than would otherwise be possible.
This philosophy extends into our approach at content (scenario) creation, where we focus more on providing tools for our users to generate content, rather than developing the content in house.
During our years of research in this space, we noticed that most simulation software packages have a very limited set of educational content at launch, and this is rarely expanded over time. Consequently, software-based simulations tend to have a short shelf life, with the content being too limited, and quickly becoming out of date.
This issue tends to arise because the cost of developing content is too high. You need to pay both software developers AND content experts to collaboratively develop the content, and there are significant overheads to this type of collaboration. Few organisations are willing to make this investment just to get a few new scenarios.
In contrast, with our approach, the cost of developing and distributing content is very low. A sufficiently motivated educator can - with only a little training - do it themselves, using the tools provided within the software. They can then share this content, for the benefit of both their own and other students in the broader community. If best-practice changes, or issues are found, the scenario can also be edited and updated very easily.
This approach ensures that our products are constantly supported by a stream of new and updated scenarios. It also allows us to support students internationally, with customised or tailored content for the various regions, to reflect best-practice and professional regulations within that region.
There's always work yet to be done, and lessons yet to be learned, but we believe these design philosophies will help our simulation products survive and thrive for the long term, and we look forward to having you join us as we set out on this exciting journey.
Pharmacy Simulator - Backed by Research
Date: 22nd Nov 2018, Author: Ivan Bindoff
Pharmacy Simulator was developed and tested in the University environment, and has been carefully evaluated and researched throughout its development.
The project began to meet a need: the University of Tasmania Pharmacy department was having some difficulty finding enough placement sites for their growing student cohort. It was looking increasingly likely that student placement hours would have to decrease in the future, so there was a need to develop a suitable replacement for that experience.
To meet this need we developed and trialled a prototype simulated community pharmacy game, and evaluated it by comparing the software simulation to a "traditional" paper-based simulation exercise.
Through this evaluation, we determined that students using the computer simulation achieved generally greater improvements in their clinical knowledge, and were more confident in their history taking and patient counselling competencies. Additionally, the computer simulation was considered more fun and engaging. You can read more about this research in the paper we published at the American Journal of Pharmaceutical Education.
After seeing these promising results, we decided to invest in further development and improvements, and continued our research to better understand how students responded to the simulator.
We did a subsequent analysis that compared the computer simulation against both paper-based and actor-based "standardised patients". In this analysis we performed a qualitative analysis that looked at the factors that students liked and disliked about each simulation modality.
In this evaluation, participants reported similarly high levels of satisfaction with each simulation approach, but each approach was found to have unique positive and negative characteristics. For example, the computer-based simulation was praised for being self-directed, fun, allowing repetition, interactive, and providing immediate and detailed feedback. However, it was criticised for having relatively limited options available, and having technological hurdles to overcome. Actors were praised for allowing detailed communication skill practice and facilitating reflective learning, but were criticised for having delayed feedback and creating a heightened sense of anxiety and nervousness in the student. You can read more about this research in the paper we published in the Simulation in Pharmacy special issue of the Pharmacy journal published by MDPI.
During the design of our improved version, we also published aspects of our motivations and design brief. Although we have made considerable leaps in our technology since then, this early foundational paper published at the ITCH conference, can be seen on ResearchGate.
More recently, an evaluation was performed by an honours student at the University of Tasmania who sought to determine whether Pharmacy Simulator was viable as a tool for training pharmacists to deal with potentially dangerous situations. He made available 3 scenarios that focused on how to handle violent or confronting situations that can arise in the community pharmacy setting. This included handling a pseudoephedrine abuser, a codeine abuser, and an armed robbery attempt.
The scenarios were made available to both current pharmacy students and practicing pharmacy professionals. His research found that 88% of users agreed that the simulation was a good way to learn how to improve patient counselling, and an almost unanimous 97% thought it was a good way to learn how to deal with potentially dangerous situations.
Conclusions
What we have concluded after conducting research and development over the past several years, is that although our simulation approach is not without its own flaws, it can fill an important gap in pharmacy education.
It is effective for, and enjoyed by, both pharmacy students and practicing pharmacists.
It allows the learner to repeatedly experiment with the simulated patient and gradually refine their skills, in a way that other simulation approaches cannot match.
It can be played anywhere and anytime.
It allows students to experience a broader range and scope of scenarios than they could reasonably be exposed to during scheduled class times.
For these reasons we believe that Pharmacy Simulator is a must have tool for educational institutions that teach pharmacy practice, and for organisations that provide continuing education to pharmacists.